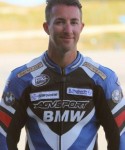 I have been around bikes my entire life. You could say they are part of my DNA. Whether it's riding on the road or track, admiring a road bike, talking about motorcycle mechanics, bike history or club-level and professional racing, I just don't get bored of them. So as part of my life-long motorcycle journey, I was lucky enough to attend CSS as a student: an eye-opening experience! My riding improved exponentially, as did my understanding of why it was improving. And now, as a CSS coach, I understand why I was able to learn what I did.
Training, training, training.
I don't mean student training but coach training. Coaches are rigorously trained and tested to make sure they can deliver Keith's ever-evolving training materials in manageable bites that—without doubt—improve a rider's skill level; no matter their starting point. This process never stops. Coaches are constantly honing their craft to provide a seamless first class CSS student experience.
But personally, beyond the training and seeing students improve, the CSS team is like a big family of really cool people that share a passion for motorcycles and it's a team I am proud to be a part of.