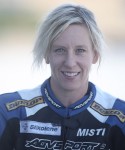 Working with Keith Code and the unique team of riding coaches has been an amazing experience, and a dream come true.
In November 2002 after two years of riding and one year of club racing, my sponsor CLS West, sent me to all four levels of the school for some technical training, and basic ride instruction. Up to that point, I had simply been riding intuitively with no real idea of the how's and why's of riding, or what to do if I found myself in any kind of trouble on the road or the track. The instruction was incredible and my understanding, confidence, speed and control of the motorcycle improved tremendously.
During the 4th level of the school I tried out for the Riding Coach position and was thrilled when I was accepted. The continuous Riding Coach training has been intense but extremely rewarding and I'm learning new things every time I'm out on the track. My ultimate goal in life was to make my passion my job and with this position I feel like I'm living my dream. Not only do I get to ride on amazingly fun tracks and meet interesting new people, I also have the opportunity to help people improve their riding and make discoveries each time they go out on the track.